George Osborne's Autumn Statement: What you need to know
Infrastructure investment. More credit easing. Capped public sector wages. Scrapped fuel duty rises. Most we knew already, some we didn't. Here's the MT round-up.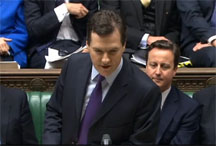 Let's start with the surprises. Chancellor George Osborne has kept a few cards close to his chest over the past fortnight, namely his plans to cap public sector wages. Against a backdrop of mass strikes by unions across the UK, Osborne announced that after the two-year pay freeze, rises would thereafter be capped at 1%. 'Public sector pay has risen at twice the rate of the private sector,' he said. 'We need to make the system fairer to the people who pay their taxes to fund that increase.' So if you work for the state that is going to hurt.

It's an interesting time to land another blow to public sector workers. The Chancellor is making it very clear that government will not bow to strong-arm tactics by the unions. His ire was palpable in the Commons today: 'Once again I ask the unions why they are damaging our economy at a time like this and putting jobs at risk?' he demanded. 'Call off the strikes and let's agree generous pensions that are affordable to the taxpayer.'

State pensions came under scrutiny in Osborne's statement too. From 2026, the pension age will be increased from 66 to 67, saving 'a staggering £59bn,' says Osborne. But the amount paid out to British pensioners is set to rise by £5.35 – 'the largest ever rise in state pension and proof of our commitment to those who have worked hard all their lives,' he adds. Contrary to predictions, however, benefits are set to increase in line with inflation.
Other key revelations today include:
The current rate relief holiday for small firms is to be extended to April 2013.
The planned rise in regulated rail fares will be capped at 6.2% - 1% above inflation - in January to help commuters.