German factories slump as French PM hits out at austerity
Manuel Valls says 'absurd' austerity is turning people against the EU, as the Eurozone's outlook turns increasingly bleak.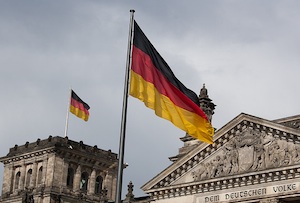 There's more bad news for the German economy as the 'engine of the Eurozone' saw monthly manufacturing output slump by 4% in August, the biggest fall since 2009. The news follows a 0.7% drop in German GDP in the second quarter of 2014.

It will compound fears of worsening fortunes in the Eurozone, where Italy has already dropped back into recession and France is looking to be on the precipice. Speaking to reporters in London yesterday, France's prime minister, Manuel Valls, hit out at Germany and European institutions, suggesting their attitude towards austerity was endangering the EU.

'Be careful how you talk to the countries in the South, and be careful how you to talk to France. The adjustment has been brutal and it has turned millions people against Europe. It is putting the European project itself at risk,' Valls said, in a remarkably forthright outburst.

The EU's stability and growth pact demands member states to run a budget deficit of less than 3% and a debt-to-GDP ratio of 60% or less, although most western European nations are currently in breach of this.

'You cannot enforce the Treaty rigidly in these circumstances. The austerity policies are becoming absurd, and we have to examine the situation,' Valls said.

Meanwhile, Office for National Statistics figures published today show growth in the UK's manufacturing sector was flat in August, after the industry expanded 0.5% in the previous month. While Britain's economy seems to be holding steady for now, the turmoil on the continent presents a huge threat to future growth, as overseas demand for UK goods and services will undoubtedly suffer.
Perhaps more ominiously, as citizens grow increasingly angry about EU-imposed austerity, could we be seeing the death-throes of the whole European project?