Germany has escaped recession by a hair's breadth
Even Greece is growing faster than Germany now it's exited recession.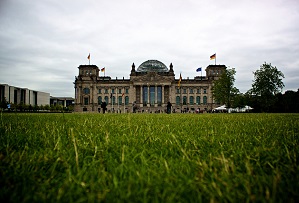 It says a lot about the state of the Eurozone that meagre growth figures are still regarded as something to celebrate. This morning we discovered that France grew 0.3% in the third quarter – higher than economists were expecting, but not exactly a triumphant return to prosperity.

The German economy, generally regarded as more robust than that of its Gallic neighbour, narrowly avoided slipping back into recession for the third time in six years, posting 0.1% growth in the three months to September after a 0.1% contraction in the previous quarter. The expansion was mainly driven by consumer spending and a small rise in exports, and brings the annual growth figure to 1.2%.

'Almost all the glamour of the second German Wirtschaftswunder seems to be gone,' said ING chief economist Carsten Brzeski. 'Chances are high that after the release of the Eurozone data at 11am CET, today's data mark the first time the German economy underperformed the rest of the Eurozone in two consecutive quarters since the doomy days of the crisis in late 2008 and early 2009.'

Neither France or Germany can claim to be riding high but the former's strong performance will at least challenge perceptions that France is the 'sick man of Europe.' Today's figures revealed that the whole of the Eurozone grew 0.2% in the same period and inflation increased in October from 0.3% to 0.4% - helping calm those who feared the prospect of deflation. It also emerged that Greece's economy grew 0.7% in the third quarter; outstripping Germany, although admittedly from a far lower base - Greece's economy has shrunk by almost a quarter since 2009.
The good news, however muted, is also good for the UK. The Bank of England governor Mark Carney warned last week that the 'spectre of stagnation' was haunting europe. Such problems would spell massive trouble for British exporters, so we can at least be thankful the Eurozone is showing some signs of life. But with its biggest economy seemingly struggling to keep up, it's far from clear how long this will last.