Germany gets European over ECB bond-buying programme
A German constitutional court has referred questions over the legality of Europe's 'unlimited' bond-buying programme to the European Courts of Justice.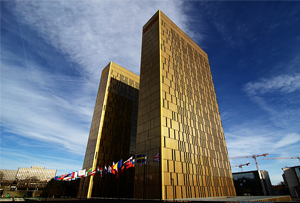 It's all happening in Germany, whose Bundesverfassungsgericht – essentially, its highest court – has just ruled on the legality of the European Central Bank's bond-buying, or Outright Monetary Transactions, programme. Its ruling? Something along the lines of 'er, we're not sure'. The court has referred its questions for 'interpretation' to the European Courts of Justice.

Now, Germany has been whining for years that the ECB's OMT programme, which, theoretically, is unlimited (though has never actually been used), is illegal.

Its problem is that OMT falls outside the ECB's mandate because it can 'lead to a considerable redistribution between the member states, and can thus gain effects of a system of fiscal redistribution, which is not entailed by the European treaties'. Ie. if the programme were put into effect, Germany's cash could end up in Spanish pockets – and the Bundesrepublik wouldn't be able to do anything about it.

The ECB responded to the ruling in the traditional manner:
ECB takes note of announcement made today by German constitutional court. ECB reiterates that the OMT programme falls within its mandate

— ECB (@ecb) February 7, 2014

The problem is that the OMT is one of the measures credited with helping to stabilise the Euro during various recent crises. It may not have been used – but its very presence reassured investors that if it were needed, it could be put into action quickly and easily. It was deemed 'unlimited' precisely because the ECB reckoned that was the best way of ensuring it would never need to be used.

Of course, the big debate now is what will happen if the ECJ comes down on the side of Germany and says it's illegal (very, very unlikely – the ECJ tends to sing from the same hymn sheet as the ECB). Would a German constitutional court have any authority over the ECB? 'No' is the likely answer – but even if it doesn't, its position would undermine the ECB's authority.

This is the first time in history that a German constitutional court has referred a question to the European Court of Justice, so it's a big deal. It's not going to be a fast process, though: a judgement is expected in about two years. Hold your breath, folks: it could be the beginning of another round of euro fun.