Getting stricter on special offers could make supermarkets sweat
UK shoppers overspend by £1,274 a year thanks to confusing in store promotions.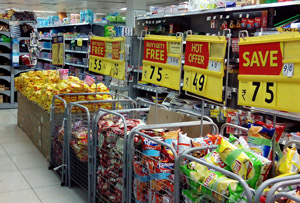 Ever got home from a trip to the supermarket and wondered just why you'd ended up with several boxes of cereal when you only wanted one? Well you're not alone, according to the Money Advice Service, which asked 2,000 (rather confused) consumers to select the best value deals from four sets of offers.
The independent body set up by the government found just 2% of people managed to get them all right. The lure of special offers can get us all on a bad day – you might not need any lemons, but that buy one get one free screams fantastic deal; how can you refuse?
Some 76% of those surveyed said they spent more than intended after those crafty special deals caught their eye. That's an average £11 extra per shop and £1,274 a year added to your shopping bill. To add insult to injury, some multibuy deals actually work out pricier than the same number of single items. Caveat emptor...