Ghosn on women
Nissan is recruiting more women because surveys showed that male and female customers prefer buying cars from women, CEO Carlos Ghosn told Nissan employees in Osaka recently.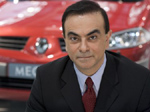 The eventual aim is to make sure there is at least an equal balance of male and female 'CAs' (car life advisors), he said.
Currently, only 5% of CAs are female. Ghosn believes that increasing the number will help Nissan serve its customers better. He also believes that companies with a more equal gender split will make better management decisions.
For instance, there used to be no pictures of women on the Nissan website, which would have put off many customers. This happened, he believes, because no women were involved in the planning decisions behind the development of the website.
Women may approach tasks in different ways to men. However, they should not be judged on how they go about things, Ghosn said. They should be assessed by the results such as customer satisfaction levels, the number of cars sold and customer loyalty. Also, women are sometimes less confident than men and need more management support.
Source:
Internationalist, late autumn, 2006
Review by Morice Mendoza