How to be a giant killer
Corporate Goliaths that dominate a market can be more fearful of the brave and cheeky interloper than they are of their known rivals - and with good reason. These case studies show how an upstart can prevail against all the odds.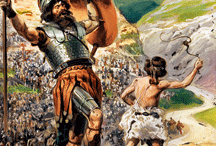 Some entrepreneurs are lucky enough to come up with a wheeze so radical that it creates an entirely new market, but most are forced to enter a sector already dominated by a more powerful and established competitor.
Although the upstart's idea may have many innovative features and the commitment of its founders may dwarf that of the wage slaves working for the big names it is up against, its opponents will have the advantages of brand recognition, economies of scale and access to large marketing budgets.
On joining the fray, the interloper is stepping into the commercial equivalent of no-man's land in the Valley of Elah to stage a David-and-Goliath style battle re-enactment. But, as the diminutive but plucky Israelite showed, the higher they stand, the harder they fall. Even if sending him to the graveyard is a tall order, you can at least have some of his lunch.