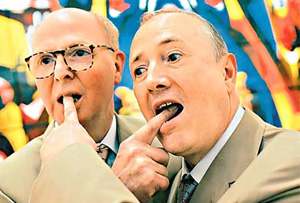 Gilbert and George come over all capitalist
Quote of the day: 'We'd rather side with the bankers than some vegan protester twit on benefits' - Artists Gilbert and George tell the Evening Standard why they won't be lending their support to the recently-evicted protest at St Paul's. The duo also think Boris Johnson is a 'wonderful modern person', and they're firmly in favour of 'making money'. Looks like the art world is losing its traditionally leftie roots...
Published: 08 Mar 2012
Last Updated: 09 Oct 2013
Find this article useful?
Get more great articles like this in your inbox every lunchtime