Gilt-y pleasures: Our top five gold gadgets
With HTC's gold smartphone hitting the headlines we thought we'd take a look at the other gold items we could use in the office.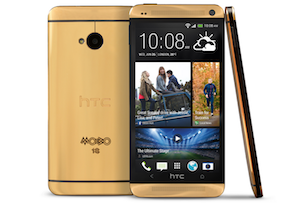 Gold phones are staging a comeback. Having been popular with everyone from celebrities to Russian oligarchs for a number of years, the devices had gone out of vogue. But the 'taste'-makers at Apple have brought them back, with the gold-coloured iPhone 5S. Thank goodness for that.
The re-emergence of the colour into the mobile market has started yet another spat between Samsung and Apple. The Korean smartphone maker announced its plans to launch a gold variant of the Galaxy S4 shortly after Apple unveiled its gold-hued 5S, causing a storm of criticism and cries of 'copycat' from frenzied fanboys. It retorted with a blog post outlining the inventory of gold Samsung phones already released. Yawn.
Well now HTC has joined the fray, but instead of using a gold 'colour' for its latest device, it's actually gold - 18-carat solid gold - created to coincide with the Mobo awards to be held later this month. The winner of the newcomer award will receive one of the £2,750 handsets.