Gisele: a model investor
Now the more cynical among you might assume that our justification for running a story about supermodel Gisele is at best slightly spurious and possibly entirely shameless. But actually nothing could be further from the truth. In fact, the lovely Ms. Bundchen has this week established herself as one of the world's most influential economic commentators.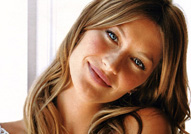 Gisele has reportedly struck a blow for MAFXTWs (model/ actress/ FX trader/ whatevers) everywhere by refusing to accept payment for her work in dollars. According to Bloomberg, her 'people' are now demanding that her employers – who include Procter & Gamble – pay her solely in euros, due to the dwindling value of the dollar.
Not content with being the world's richest supermodel ($33m last year, according to Forbes), Gisele was apparently very keen that the dollar's current weakness against the euro and the pound does not leave her out of YSL-clad pocket (or at least, her bankers are).
However, no doubt fearing that this dollar-bashing might not go down too well in the US, her PR people have since tried to distance her from the reports, telling CNBC that someone in Brazil made the whole thing up.