Gladwell: The secrets of success
Tipping Point author Malcolm Gladwell says we should look at rock 'n' roll for career guidance.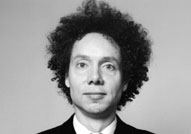 'Tell me where your secret lies,' sang Fleetwood Mac on 1987's Mystified. If you've ever searched for the band's secret (we haven't either), you should have been watching Malcolm Gladwell at the London Business Forum on Tuesday.
The author of Blink and The Tipping Point chose Fleetwood Mac as the unlikely illustration of his main theme: that while stunning success may appear to come from 'catching lightning in a bottle', there are actually quantifiable factors that cause it.
Success in Mac's case was the band's eponymous LP and its 1977 successor, Rumours, which brought them worldwide acclaim. Gladwell revealed something the average punter probably didn't know: Fleetwood Mac, the LP, was actually the band's twelfth, and the band had experimented with line-ups and styles for 10 years before they found their formula.