Glass half-full for Britain's Most Admired
Last night the great and good of UK plc joined MT to raise a glass to Britain's most admired companies.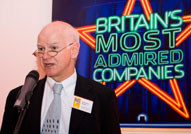 It was time to accentuate the positive last night at Somerset House in London, as MT hosted the annual cocktail party to celebrate the shortlist for the Britain's Most Admired Companies awards, sponsored by Accenture.
As the public skated on the ice rink in the square below, over a hundred representatives from the top companies heard MT editor Matthew Gwyther and MT columnist Sir Howard Davies, director of the London School of Economics, give speeches at our 'Glass Half-Full' event.
'Most Admired is a true peer poll of those that matter,' said Gwyther. 'That means that in winning you have gained the respect of your severest critics – your competition. Your competitors may be harsh judges but they are also the people most aware of your strengths and weaknesses. If one firm can dominate the thoughts of its peers it must be doing something right – especially in this difficult times.'