Glencore has ruled out a Rio Tinto merger - for now
The miner says it won't be bidding for Rio Tinto for six months, but there are exceptions.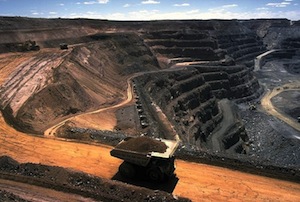 Last night, iron ore giant Rio Tinto announced Glencore had approached it about a potential merger, which it had emphatically rejected. Now Glencore has addressed the swirl of rumours that followed and confirmed that it won't be going after Rio for at least six months.

The company said it had 'made an informal enquiry by telephone call to Rio Tinto, seeking to gauge whether there might be any interest at Rio Tinto in investigating some form of merger between the two companies.'

With its very 20th century advances spurned (still too modern for a face-to-face though apparently…), Glencore said it 'is not longer actively considering any possible merger with, or offer for the shares of, Rio Tinto'.

It also acknowledged that it is now barred from making another advance for six months, under Rule 2.8 of the City Code. Except (and if the Takeover Panel approves) if Rio invites it back or a third company tries to pounce on the object of its desire.

Rio's shares closed 0.78% higher, at 3,020.5p, having risen more than 5% on speculation of a merger. Glencore's closed 2.4% down at 331.17p, having traded around 1% lower for most of the day.

For now, the announcement also puts to bed reports Glencore had approached Chinalco, the state-owned company that is Rio's biggest shareholder, to sound out its interest in a deal. But it also implies Glencore, which merged with Xstrata on a not-actually-equal basis last year, doesn't want a hostile takeover. It could still go a-wooing behind closed doors then, despite having one slammed in their face for now.