Glencore's incredible shrinking debt mountain
The mining giant's ambitious debt reduction plan just got more ambitious. $3bn more ambitious, to be precise.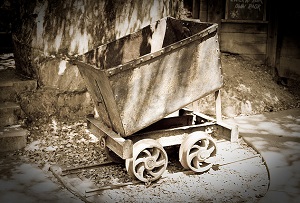 Rescuing your mining empire from a debtor's hell isn't a competition. But if it was, Glencore is beating Anglo American firmly into second place. After Anglo announced it was stripping billions from its costs to shore up its balance sheet, Glencore upped the ante by increasing its own debt reduction target by an additional $3bn (£2bn).
Added to the extreme measures it announced in September, which involved an equity issuance and the sale of numerous assets, this means the firm now intends to have cut its net debt by an astonishing $13bn by the end of next year. Half of the extra will come from reduced capital expenditure, which is probably not a bad idea in a market characterised by oversupply.
The miners have suffered a serious hangover from their debt-fuelled expansion binge during the heady days of the commodities supercyle. Now that China's lost its appetite for metals, prices have plummeted (copper is half as valuable as it was in 2011, for instance), leaving firms like Glencore heavily exposed. Even if its ambitious plans work, net debt will still be $18-19bn.