Glimmer of hope for house prices
House prices are still sliding - but are there signs that the market is bottoming out?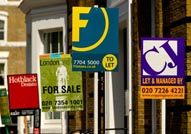 Ordinarily we'd steer clear of house price stories at the moment – life is miserable enough without us depressing you with an endless stream of 'house prices tanking' stories. But we decided to make an exception for today's figures from the Halifax – because if you look very carefully, they do suggest a chink of light at the end of the tunnel. Admittedly, house prices are down again – but September's fall of 1.3% is the smallest for seven months. With Nationwide singing a similar tune last week, could this mean we're finally getting somewhere near the bottom of the market?
OK, so it's no more than a chink of light. And glass-half-empty types (who are firmly banned from MT Towers) will inevitably highlight the other notable stat from today's release: house prices have now fallen by a record 13.3% since September last year, the biggest annual fall since records began. The average UK house is now worth £172,108 – that's £26,000 less than this time last year, and brings prices back down to January 2006 levels. And according to the Halifax, we're not finished yet: 'The ongoing pressures on householders' income, combined with the reduction in the availability of mortgage finance mean that market conditions will remain challenging,' says chief economist Martin Ellis.
But we're determined to be optimistic nevertheless. For instance, this fall at least means that houses are getting more affordable. The house price-to-earnings ratio has fallen from a peak of 5.84 to 5.02 – that's still above the long-term average (and remains fundamentally unsustainable, economists would argue), but it's the best ratio since 2004. And at least if prices keep nudging downwards, this is only going to get better.