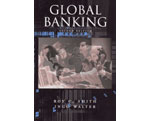 Global Banking - Second Edition
<i>Global Banking, Second Edition,</i> attempts to wade into the chaos and confusion of today's global banking and capital market environment and strip out the central parts of it, so that each can be examined separately. The purpose is to gain a better understanding of the evolution of international banking and finance, the services represented in today's market, the competitive processes involved, and the impact these have on the prominent public policy issues of the day.
Published: 01 May 2003
Last Updated: 23 Jul 2013
Connection Timeout
Oxford University Press, 2003
Find this article useful?
Get more great articles like this in your inbox every lunchtime