Global Entrepreneurship Week: An entrepreneur's guide to India
When looking at the UK and India as places to do business, the similarities and differences come to life with great magnitude, says RationalFX founder Rajesh Agrawal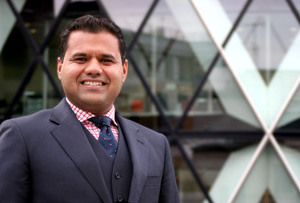 As the world we operate in becomes increasingly globalised with cross-cultural changes defining our every thought and action, we can definitely say the world is getting smaller. At the same time, differences do exist whether economic, political, cultural or social. Whilst we celebrate the similarities we must also respect the variances.

India has over 5,000 years of history, 1.2 billion people, 18 official languages and hundreds of dialects. It is the birthplace of four of the major world religions and the culture changes every 400 kilometers. It is also the seventh largest and second fastest-growing economy, boasts the largest democracy, the largest young population group and the second largest English-speaking population in the world. The dynamics are overwhelming.

Winston Churchill once said that 'India is merely a geographical expression. It is no more a single country than the Equator.' He perhaps meant it in a different context, but to me, it's a great insight. It is almost impossible to find a country so full of contradiction. When you look from afar, it seems terribly chaotic, but as you move closer, you see a thread of synchronicity passing through the chaos.

I was born and educated in India and moved to the UK at the age of 24. There was not any strategic thinking behind the move, and it was not a difficult decision to make. I wanted to see the world and was offered an opportunity in the UK, so I decided to take the chance. Having lived and worked in both the countries, it has given me a perspective of both places and shown me the differences and similarities of doing business in both countries.

Although they seem very different, Britain and India have a lot in common – the judicial system, bureaucracy, democracy and chicken tikka masala! But unlike Britain, India is very culture-heavy. Tradition is reflected in everyday life and affect your business, large or small. In India, even McDonalds doesn't dare offend the Hindu religion, so it doesn't serve its world famous beef burgers; KFC sells veggie burgers!

Many people have moved to the UK to start businesses over the last few years. British universities offer lot of scholarships which attract a huge number of students from all over the world, including India. You naturally develop a strong bond with the country where you studied. It affects your values, outlook and you feel more comfortable doing business in/with that country than others. Over a period of time however, these scholarships have become fewer and less attractive compared to the ones offered by American universities. As a result the current generation has a slight flavour of Americanism; according to a global survey in 2008, George Bush was the most popular public figure in India.

Although many people from India do move to the UK to start businesses, India is very entrepreneurial. Private equity and venture capital is flowing and the stock markets have been soaring.

India has the second-fastest growing economy and there are opportunities available across many different industry sectors - infrastructure development, healthcare, entertainment, retailing, banking and insurance, consumer products, media and internet.
For people who want to start business over there, a good starting point would be to contact either the British High Commission in India or UK Trade and Investment. They can help you study your target market and find out whether there is a demand for your product/service, what regulations are related to that industry etc. They also have trade missions going to India from time to time, so if you haven't been to India before, it might be a good idea to go to get a flavour of the country.

Once you have identified that there is a market, decide whether you want to do business by yourself or partner with a local firm. Look at the regulations - in certain industries, like retail, the law may require you to have a local partner. Also, be careful in drafting the partnership contracts: it's worth spending money on a good law firm because while the legal system in India is very robust, the judicial system can be rather slow and litigations may take years to conclude. Everybody tries to avoid courts and resolve any disputes in more commercially sensible ways.

One final note: be particularly careful when it comes to protecting your intellectual property. India's track record on IP may be better than several countries, and is always improving, but foreign companies can become unstuck. After all, until recently, copyright in India meant 'right to copy'!