Gloves off as spending cut soften-up gathers pace
First those 40% cut plans - now civil service redundancy and strike rules are in the spotlight.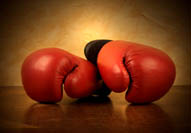 As if the news that some government departments face budget cuts of up to 40% wasn't enough public sector pain, today it emerges that civil service redundancy pay may be slashed and strike ballot rules toughened up, too.
Redundancy pay for civil servants is currently capped at a maximum of two years' salary, itself cut from six-and-a-half years by the old government last year. But this is still a long way from the private sector minimum of a week for every year of service; even the more generous employers only usually offer a maximum of a year's salary.
The rumour is that the Camer-egg government wants to see public sector redundo more in line with that in the private sector - presumably because if it's not reduced substantially, making anything like the cuts they want to make will simply be too expensive. Slashing compulsory redundancy could also give the powers-that-be more room for manoeuvre in the gathering storm over job cuts (which could hit 600,000) by allowing them to offer more generous terms to those who agree to go quietly.