GM outlines big risks in $20bn IPO plan
General Motors makes its first appeal to investors - but its shares still look a risky proposition.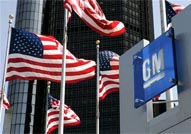 The rapid rehabilitation of General Motors - from Chapter 11 to imminent (potentially record-breaking) float in barely more than a year - has undoubtedly been impressive. But as it launched the first stage of its planned IPO today, the documentation made it very clear that despite its recent successes, GM is still facing an awful lot of challenges. It will be a brave investor who signs up for this particular offering...

GM published a 700-page door-stop today explaining why investors should buy its shares - though for such a ridiculously long document, it failed to include lots of useful info. No mention yet, for instance, of how many shares it will be selling, or when it will be selling them, or even how much it was hoping to raise - although analysts are guesstimating that it could happen as early as October, and will aim to raise somewhere between $12bn and $20bn. At the top end of the scale, that would make it the biggest IPO in US corporate history.

Another thing GM failed to mention was how many shares the government would be selling. It's widely assumed that the authorities will be looking to claw back some of the taxpayers' money it pumped in last year (about $50bn) by selling at least part of its 61% stake - possibly such that it's no longer the majority shareholder. But GM admitted today that whatever happens, the White House will retain a 'significant influence' over what goes on at the carmaker. That might make some investors nervous.

And that wasn't the only potential issue identified in the document. GM's brand has been substantially damaged by its period under Government ownership. CEO Ed Whitacre has just announced that he's leaving the company after less than a year in charge (hardly ideal pre-IPO), and GM suggested that recruiting managers from outside the industry was a risky business. It also admitted that its internal financial controls had been inadequate, and that its pension plans were $27bn in deficit at the end of last year.

What's more, it's still losing money in Europe (though it would be daft to bow to US pressure to ditch it, since it's the only bit of GM that knows anything about making small cars – surely the future of the industry). And although it made a healthy $1.6bn profit last quarter, it only returned to the black this year thanks to cost- and debt-cutting. There's no guarantee it can keep that up, given the structural problems facing the entire auto industry.

So you can see why investors might not be champing at the bit for these particular shares. GM may be off life support, but it's a long way from rude health.

In today's bulletin:
High street bounces back in July - and borrowing falls
GM outlines big risks in $20bn IPO plan
Women will have to wait 57 years for equal pay
Graduates and school leavers in danger of being left behind?
Bangers and cash: Lincolnshire levies sausage tax