How to go from pop-up to London's trendiest restaurant, by the Meat Liquor founders
Meat Liquor started life as a burger van with a Twitter account. Now the chain has three restaurants, with another four planned and a £12m turnover. How did they do it?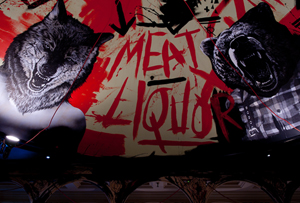 Papoutsis (left) started the business with 'Meatings' in 2009
It's been five years since Yianni Papoutsis spent £3,000 on a burger van which he nicknamed the Meatwagon, and started holding 'burger parties' ('Meatings', if you will), which lured revellers via a Twitter account.

'People brought their own booze, we'd have a soundsystem and it would just be done via Twitter. This was in the days before Twitter was a thing for foodies. It was more in the style of the old raves, where you'd have to phone up a number to find out where it was.'

It was at one of the parties Papoutsis met Scott Collins, who owned various pubs in south London. When the Meatwagon was stolen, Collins suggested he set up in one of his latest acquisitions, a room above what was then known as the Goldsmiths Tavern (now New Cross House) in New Cross.

An 'it' restaurant was born: critics may have complained that the two-hour wait at #Meateasy (so called because it didn't have a website, email address or even a logo - just a hashtag) was too much, but that didn't stop the hordes from making the trek to south London to sample Papoutsis' burgers, described variously as 'excellent', 'brilliant' and 'monumentally succulent'.

Since then, the company has grown to three branches (called, variously, Meat Liquor, Meat Market and Meat Mission) in London and Brighton, with another four planned, including restaurants in Leeds and Bristol. The chain has a £12m turnover, numbers Pizza Express backer David Page among its investors, and has built up a reputation bigger than one of its famous queues. How did its founders do it? Here's their step-by-step guide.
1. Meatwagon, not bandwagon
Meat Liquor may be classed as one of the pop-up movement's great successes, but when Papoutsis started out he'd never heard of a pop-up. 'I think we just hit the zeitgeist,' he says.

'Pretty much everything's been done out of necessity,' adds Collins. 'It's more by luck than judgement that we were there at the beginning.

'Nowadays there are so many street food wagons and so many alleged pop-ups. There are corporates doing pop-ups, everyone's trying to make it work. But the wagon popping up - that was a very, very rare beast.'
2. Ignore the critics
The chain is much maligned for its lengthy queues, but the pair say reservations would have ruined the atmosphere.

'We were a burger van,' says Patsousis. 'We would have got as much stick from people saying "you're a burger bar and you think you're so good you have to take reservations". If you open a restaurant with a huge blizzard of publicity and you allow reservations, all you're going to get for the first few months is foodies and people [with the contacts to] book a restaurant that hasn't opened yet two months in advance.

'We're not exclusive, we're inclusive. All we ask is that you're able to queue.'