Going back to basics, with YouTube
Lessons in building strong foundations, with Monty Python, Only Fools and Horses, and Roger Mellie.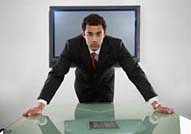 While a lot of people may be struggling right now, you may well be bearing up surprisingly well. The bubbly may even still be flowing. But get complacent right now, and you may suddenly find yourself, as Monty Python's four Yorkshiremen once did, in a rather unenviable position.

Do the job properly. In such times, people aren't confident about throwing their cash around, so it becomes even more important to do work well. Simple things like communication can make all the difference. Otherwise your business may come crashing down like the chandelier in Only Fools and Horses.
Up your game. Many jobs simply aren't as secure as when things were more bullish. In times of plenty, it's easy to let lackadaisical habits, and a lack of seriousness, creep in. Now you need to get yourself 'match fit' . In other words, don't do what Roger Mellie did when he presented Antiques Roadshow.

In today's bulletin:
Market bloodbath as investors panic
UK and Iceland spat gets even frostier
Healthy = wealthy and wise?
MT's Little Ray of Sunshine: A spoonful of Sugar for Woolies
Going back to basics, with YouTube