Gold demand soars as Europeans get a thing for bling
Global gold demand soars again in Q2. Good for jewellers, but not exactly a sign of recovering confidence...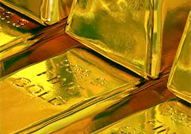 Gold never really goes out of fashion, but it seems investors are buying it in ever-greater quantities: according to new figures from the World Gold Council today, global demand for gold rose by more than a third in the first half of this year - and isn't showing any signs of slowing. That's an impressive turnaround since the beginning of the decade, when demand dropped substantially. But is it also a sign that investors are still lacking confidence in the financial markets?

The figures show global demand rose to 1,050 tonnes in the first two quarters of this year - 36% higher than the same period last year. Asia is traditionally the world's most enthusiastic consumer of gold jewellery, but this time it only saw a modest growth in demand - while there was a 2% drop in India, the world's largest market (that's a lot of gold bangles). Surprisingly, Europe was the big driver of growth, with demand up a whopping 115% to 84.8 tonnes. In fact, Europeans seem to buying up gold with gusto: in the second quarter, it accounted for more than a third of the world's demand for small gold bars and coins.

To some extent, this is a continuation of a trend which has been evident since the start of the recession. Demand slumped earlier in the decade, but tougher economic times saw investors pile into gold as a safe haven for their cash (since it rarely loses much of its value). And it's retail investors - i.e. private individuals, rather than corporations or funds - who are driving this trend, with demand for physical gold products on the increase.

That's handy if you make gold jewellery for a living. But the bad news, as far as the wider economy is concerned, is that the fact people are still buying gold in such quantities suggests that confidence in the stock market and other assets remains at a low ebb. Unless, of course, we've just got so used to our bling in the last couple of years that we can't bear to give it up...

In today's bulletin:
Was the Budget regressive? Coalition at odds with top think-tank
Admiral rues advertising woes as Confused.com flounders
Should David Cameron take his full paternity leave?
Gold demand soars as Europeans get a thing for bling
Lady Geek: A lesson in fearlessness with Eileen Gittins