Gold rush brings home the bacon for bullion entrepreneur
This week alone, online bullion retailer Bullion By Post has received over 2,500 orders as people flock to buy gold at bargain basement prices.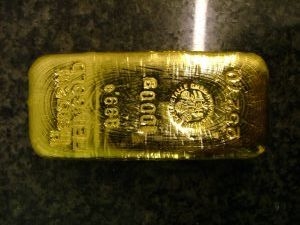 The price of gold fell to a two-year low earlier this week, down 9.2% to around $1,395 an ounce. Bad news if you're holding onto loads of 'paper gold', trading the stuff electronically, but for those selling cold hard nuggets of the stuff, it's brought about a sales boom.
Entrepreneur Rob Halliday-Stein has been inundated with orders at his online gold store, BullionByPost.co.uk. On an average week, he processes around 600 orders and receives a few thousand visitors to his website. This week, he has received more than 250,000 visitors and 2,500 orders, driving £5m worth of revenue.
'The falling price of gold has been driven by a very small number of very big, very fast sellers such as banks or hedge funds selling large amounts of gold electronically,' explains Halliday-Stein. 'But of course this is electronic gold as opposed to bullion, so it's not actually moving anywhere. However, customers are seeing the low price and placing orders as they are concerned about the overall economy and see physical gold as a long term investment.'

The phenomenon has brought about the best sales that Halliday-Stein has seen since setting up his business in 2008. But it has also proved very challenging, with the influx of orders playing havoc with logistics.

'We have had to be very flexible to maintain customer expectations,' says Halliday-Stein. 'We've extended our next-day delivery promise so that orders are now received within a week instead and, reluctantly, we have introduced a minimum order of £500. This is because the orders were coming in at a much faster rate than we could get them out.'

So, how long till the bubble bursts and business goes back to usual? 'I don't know!' he says. 'We are still seeing extremely strong demand from small retail investors, and there is a large uptake for gold. We expect it to recover slowly, but steadily. To be honest, after all the interest, it will probably exceed its previous highest price at some point...'