The golden rules of corporate governance
SPONSORED: What does good corporate governance mean in an age of transparency and ethical awareness? How can it best be communicated? Our panel of executives and academics analyse an idea that is constantly evolving.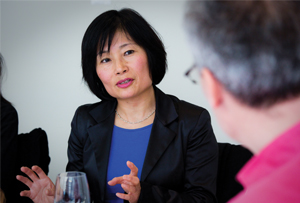 Matthew Gwyther: The aim of this discussion is to talk about corporate governance, which has been defined as the 'system in which corporations are directed and controlled'. Governance provides the structure through which corporations set and pursue their objectives, reflecting the context of the social, regulatory and market environment. However, it's so much more than that these days. It increasingly embodies everything to do with business, and now is a term that applies to SMEs as well. It's to do with the culture of an organisation and having a sense of doing the right thing. As an academic, Chizu, what do you think?
Chizu Nakajima I think governance has two main strands: corporate performance and financial performance. Accountability is something academia has tended to ignore in the past, because we've been totally confused by it. The mainstream research thus far has been done by those people who tended to measure only by share price going up or down. And that's a very narrow view of measuring the effectiveness of corporate governance. We've got to make sure that academia isn't excluded from discussions on this.
Carol Bagnald I'm responsible for commercial and business for HSBC in London. I've been in the industry for 37 years and seen huge changes. I agree that corporate governance has two strands: it's about how you run your business. But the strand that has become a lot stronger is the way you run your business. In organisations such as HSBC, which has 270,000 people working across 6,500 offices in 80 countries, it's not just about how you do it at the top, it's right the way through the organisation. You can only appreciate effective governance when reputation is at risk. Reputation takes years to build up and can be lost very quickly.