Goldfingers: the men with the Midas touch
Traders with longer ring fingers make much more money. Perhaps that's where Lehman went wrong?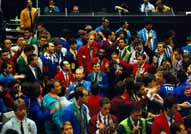 An academic study found that City traders with longer ring fingers made up to 11 times more money than their digitally-challenged colleagues. But this is no statistical quirk – longer ring fingers are a telltale sign of higher testosterone levels, which are known to increase confidence, encourage risk-taking and decrease reaction times. The team of scientists, led by former Wall Street broker Dr John Coates, found that this was a huge advantage for traders (just as it is for sportsmen), allowing them to outperform their peer group over the period of the test. But if anything, this may well show the flaw in the system...
Coates' study was focused on so-called 'high-frequency' (or 'noise') trading, in which traders are forced to take huge positions for very short periods of time – rarely more than minutes, and often just seconds. It's the fastest-moving segment of the trading world, in which operators have hardly any time to make decisions with huge financial implications. So it's no place for shrinking violets. And according to a study of 44 male City traders, an individual's success is directly correlated to his testosterone level: on average, those with longer ring fingers made six times the profits of their less well-endowed counterparts, and also lasted much longer in the industry.
So does this mean that banks need to rely on finger length in their recruitment process (or 'estimates of prenatal androgens', as the scientists catchily prefer to call it)? Well, not necessarily. Coates reckons it's a bit like picking tennis players based on height: 'Height gives an advantage in serve speed and reach at net,' he writes in today's FT. 'But a coach selecting players on this basis would miss a Jimmy Connors, who is a slight 5ft 9ins yet has won eight Grand Slam titles.' In other words, it's not the whole story.