Gone with the wind: RWE scraps turbine project
Npower parent company RWE has scrapped plans for a giant wind farm off the Devon coast. Is this the result of David Cameron's rant about 'green sh*t'?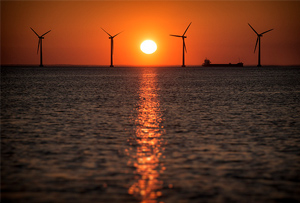 The winds of change have blown for a huge renewable energy project planned off the North Devon coast: sadly, it was in the wrong direction. In fact, you might say the plans have been blown out of the water…

German firm RWE Innogy (which is owned by npower parent company RWE) had slated plans for a 77 square-mile wind farm about 10 miles off Devon called the 'Atlantic Array' project. Between them, the 240 giant wind turbines (they were going to be 720ft tall – more than four times the size of Nelson's column) would have generated 1,200 megawatts of electricity, enough to power 900,000 homes, creating several thousand jobs.

Sadly, though, the project has rather blown itself out: RWE Innogy said this morning it has withdrawn its plans.

The project hadn't been given the go-ahead yet, but it had already been the subject of fierce debate – ironically, given its green credentials, because campaigners were worried it would affect wildlife. Lundy Island, a nature reserve known for its puffin population, is just eight miles from the Atlantic Array site.

But RWE Innogy insists its decision is less to do with puffins, and more to do with 'significant technical challenges' – although it didn't go into much detail about what exactly those challenges were, other than mumbling something about 'more viable technologies' being developed.

'This is not a decision we have taken lightly,' said Paul Cowling, director of offshore wind. 'However, given the technological challenges and market conditions, now is not the right time for RWE to continue to progress with this project. We will continue to focus on the other, less technically challenging offshore projects.'

There are suggestions the site is one of the first casualties of the government's decision to scrap a number of green levies (or 'get rid of all that green shit', as the Prime Minister definitely didn't say) which support renewable energy projects like this.

Friends of the Earth was under no illusions: Andrew Pendleton, its head of campaign, accused the government of 'wanton green-bashing'.

'The UK has some of the finest offshore clean energy resources in the world and harnessing it is becoming cheaper… but anti-green ideology at the heart of the coalition is sending the development of world-beating clean power into reverse.'

It's certainly a blow to the government's target to increase the percentage of energy generated by renewable projects – the plan was to generate 15% of Britain's energy from renewable sources by 2015.

To be fair, offshore wind farms – and wind farms generally – have received pretty bad press lately: the consensus is that they tend to be expensive, inefficient and not very attractive to look at (although MT actually disagrees on the latter point). That's why the government has focused its renewable energies on nuclear power – although they come with their own set of debates.
Then again, given the PR crisis the energy sector is experiencing at the moment, the odd working wind farm could be helpful. This morning Andrew Wright, the chief executive of energy regulator Ofgem, attacked the 'big six', saying that customers are 'not convinced that the price increases they see is either fair or justified'.
That's understandable: yesterday the regulator published figures showing profit margins had risen from 2.8% in 2011 to 4.3% in 2012, with British Gas owner Centrica making the most, with a 6.6% margin. So you never know: turbines might get a second wind.