Good customer service not enough to rescue banks
Banks have rightly focused on service lately - but it hasn't stopped their reputations taking a kicking.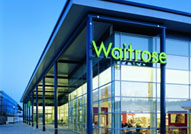 If our battered banks survive the downturn, it'll be a lot to do with the sterling efforts of their front-line staff: according to a new survey by the Institute of Customer Service, UK consumers think the banking sector as a whole has actually improved its levels of service in the last 12 months, with first direct and the Co-operative Group leading the way. However, this wasn't enough to rescue most of their reputations: the banks that are now part-owned by the state (particularly RBS and HBOS) all saw their scores nose-dive. Which suggests that when it comes to corporate image, good service can only get you so far…

The banking sector recorded an overall score of 75 out of 100 this year; that's four points below the top-rated retail sector, but three points higher than its score this time last year. So it looks as though banks have had some success in getting their customers onside in the branches, whatever mistakes they're making higher up the chain. But as the success of first direct and Co-op shows, the best-regarded banks are those that haven't been tainted by the crisis; in fact, in some cases, the well-publicised woes of their larger counterparts have actually boosted their reputations.

The list of top-rated companies across all sectors tells a similar story. The ICS results will have gone down a treat at John Lewis, which took first place (for its department stores) and second place (for Waitrose); while new M&S boss Marc Bolland will also be delighted to see that his new company comes in 3rd (for food) and 5th (for other stuff). This tallies with that recent Which? survey, which put both upmarket retailers well ahead of their supermarket rivals (who are again notable by their absence in the ICS results).

And then there's the smaller local retailers. According to a recent survey of 3,000 people by a company called TheBestOf, 70% of us like shopping at smaller stores because staff are more approachable and knowledgeable about their products. This week it's running something on its site called the 'Love-O-Meter', which allows people to post positive testimonials about their local firms and score them accordingly – culminating on Valentine's Day (geddit?), when they'll reveal the top 100 most loved local businesses in the UK. 'This survey shows that big companies just don't cut it when it comes to customer service, product knowledge or experience,' insists CEO Nigel Botterill. 'They are routinely outclassed by small local firms who are much better at providing that personal touch that Brits value'.

Although that clearly doesn't apply to the likes of Waitrose...

In today's bulletin:
Bank stops printing money - for now
1,000 job cuts in the pipeline at Shell as profits slide
Toyota counting the cost of 8m safety recalls
Sun CEO resigns in (Japanese) style - on Twitter
Good customer service not enough to rescue banks