How to make a good first impression in a new job
Read the advice in the business classic The First 90 Days and you won't put a foot wrong.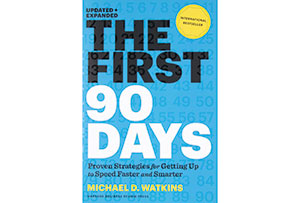 Hitting the ground running is as hard as it sounds, and potentially injurious to health. Stepping up to a big new job is not easy. What got you there may not take you any further. So how should you approach those vital first few weeks?
Michael D Watkins' classic primer has a timeless appeal. Indeed, in a world of flatter organisations and bigger, more frequent career jumps such a book is needed. Watkins, a business school professor (ex-INSEAD and Harvard and now at IMD) eschews academic theory in favour of a practical approach.
It is common sense writ large. 'Secure early wins,' he advises. 'Achieve alignment', 'build your team', 'keep your balance'. Not rocket science, clearly. But sensible tips (there are many more) to give you a better chance of settling in without screwing up. Above all: get the people stuff right, especially with your boss, before agonising over the technical minutiae of the job. And this is where the point about balance comes in: while striving for a few 'early wins', it's equally important not to jeopardise future relationships by trying to dazzle the powers that be with a dramatic triumph.