Good news for Ashley as Sports Direct upgrades profit forecast
With improving profits at retailer Sports Direct, are things finally looking up for Mike Ashley?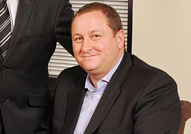 Two months ago, when its offices were being raided by the Serious Fraud Office, the idea that Sports Direct would soon be delighting investors with a profit upgrade might have seemed a bit far-fetched. So we imagine it might surprise a few people to learn that the embattled sportswear company, which hasn't exactly had a stellar record as a public company, has just upgraded its profit forecast for the year to April to £155m – despite a 40% drop in profits. All of which will presumably come as a relief to 'colourful' entrepreneur Mike Ashley, who still owns a 71% stake in Sports Direct – particularly given how things are going elsewhere in his business empire.

Given its chequered past as a listed business, it's good to see that Sports Direct finally seems to be getting back on track and providing its shareholders with some good news. UK retail sales were up a not-to-be-sniffed-at 15%, while international sales were up by a third and net debt slashed by a sixth. Though perhaps this shouldn't come as a complete surprise: Sports Direct's cheap and (occasionally) cheerful clothing range ought to be more recession-proof than most.

But it wasn't all cheery. Profits for the six months to October 25 were still down by 40%, which the company ascribed to foreign exchange movements. Its brands division (which operates mainly on a wholesale basis) didn't fare too well either, with revenue down 19% to £95m. And while staff can now look forward to juicy bonuses (the revised forecast takes earnings to above the required minimum level for a share bonus scheme, introduced in July to motivate cheesed-off staff) shareholders won't be so lucky: apparently paying off all that debt has left no money in the pot for a dividend.

Still, Ashley must wish all his investments were in such (relatively) good health. Given the recent travails of Blacks Leisure, and the ongoing fiasco at Newcastle United, he'll be glad the company that made him a billionaire is regaining popularity with shoppers. Although his own popularity with Newcastle fans has been heading in the opposite direction since he renamed the ground as 'sportsdirect.com@St James' Park Stadium'...