Good timing, Justin: Sainsbury's share price drops as sales fall for third quarter
New boss Mike Coupe says things aren't going to change any time soon.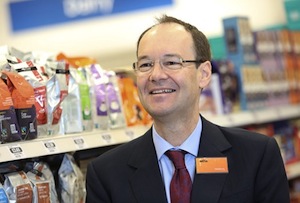 Things are looking grim for the big boys of the grocery market, as they limp on through the increasingly bloody price war. Sainsbury's is the latest to expose its wounds, reporting like-for-like sales down 2.8% in its second quarter.

It's the third consecutive quarter of falling sales for Britain's third-largest supermarket, after nine years of unbroken growth, making the Terry Leahy-esque timing of Justin King's departure in July looking increasingly well-timed.

'Our performance has been impacted by the accelerated pace of change in the grocery market, including significant pricing activity and food price deflation in many areas,' new chief executive Mike Coupe said.

'These conditions are likely to persist for the foreseeable future and we now expect our like-for-like sales in the second half of the year to be similar to the first half,' he continued.

Basically, things aren't going to improve anytime soon, as German discounters Aldi and Lidl continue to march onwards and real wages keep on stagnating. The markets responded accordingly, with shares down more than 4% to a six-year-low of 240p in mid-morning trading

They'd already fallen more than 31% this year, as the supermarket price war kicked off, and hedge funds are betting there's more to come - Sainsbury's is the most shorted stock on the FTSE 100, according to the Telegraph.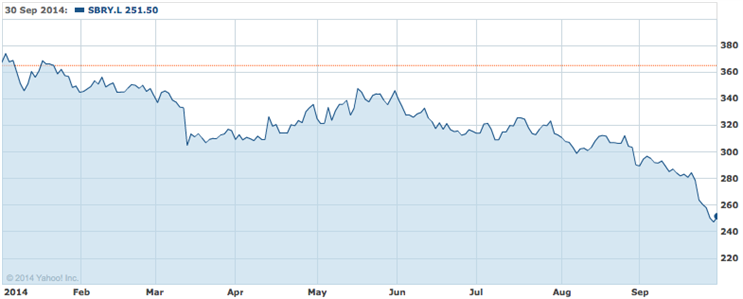 Source: Yahoo Finance
The supermarket's total sales (excluding fuel) fell 0.8% in the 16 weeks to September 27th and were flat for the first half. Coupe said it had lowered the prices of 'thousands' of products and refocused its 'Brand Match' price-matching scheme on Asda - a not-so-subtle finger its larger rival Tesco.

Also coming in for a snub was researcher Kantar Worldpanel, which released data last week showing Sainsbury's sales falling more than 4% in the previous four weeks. 'We do not recognise this sales trend,' the company said. 'Assessing the market performance based on four-week data can be misleading.'

It wasn't all bad news, though. Annual convenience store sales have hit £2bn and are growing at around 17%, while online sales increased around 7% in the quarter. Coupe might want to remind his staff not to put 50p 'motivational' company posters up in store windows, but at least Sainsbury's isn't being investigated by the FCA...