Google boss searches for soulmate
Larry Page, the co-founder of Google, was apparently set to marry his girlfriend at the weekend - and the guest list was likely to have a higher net worth than most continents.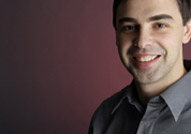 Page was due to marry Stanford doctorate student Lucy Southworth on Necker Island, the British Virgin Island owned by British Virgin boss Sir Richard Branson. Branson and Page are apparently big mates, though it still seems a bit extraordinary that the self-publicist extraordinaire is also going to be Larry's best man (as Reuters is reporting). Surely fellow Google chief Sergey Brin must be a bit miffed? Or did Branson demand it as a Necker quid pro quo, like the kid at school who won't let you use his football unless you pick him for your team?
Although Google have refused to comment on the forthcoming nuptials, it must be true because a Google search of 'Larry Page AND wedding' produces 259,000 results. Hoist by his own petard, we reckon.
Needless to say, the 'secret' marriage of a genuine Web superstar has sent the internet into meltdown, with bloggers across the world desperate to get a piece of the action (as well as serious publications like ours, of course). Valleywag, the Silicon Valley gossip site that first sniffed out the bash, continues to lead the way – revealing the logistical difficulties of trying to hold a bash for 600 A-listers on an island with only 24 rooms. Bono, the Clintons, and various other zillionaires are apparently among the luminaries who may be asked to bring their own sleeping bag.