Google Glass creator defects to Amazon
Babak Parvis also made Google's diabetes-detecting contact lens, but we're unlikely to find out what he's up to at Amazon any time soon.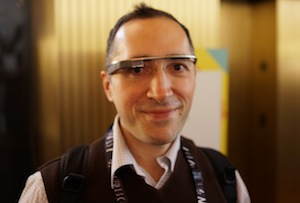 The man who created Google Glass has jumped ship to rival internet giant Amazon – a sign the 'everything store' is planning to pioneer optics technology, but not anything it's likely to lift the lid on anytime soon.

Uber-scientist Babak Parvis, who founded the secretive research labs Google X and had been developing a smart contact lens to monitor diabetes sufferers' glucose levels, announced the move in a cryptic Google+ post (not an Amazon listing then).
There's no word on exactly what role Parvis will fill, although it's likely to be hard science. Back in May he was replaced as the head of the Google Glass team by fashion marketer Ivy Ross, as the job shifted from development to persuading us wearing a black metal monobrow is cool.

It could well have something to do with Amazon's new Fire smartphone, which projects 3D images that adapt to your perspective and has a feature called Firefly that scans and recognises objects. The e-commerce enormity may also develop smart contact lenses (if all the patents haven't been left behind at Google) – tech site The Verge called Google Glass the 'compromise solution' for Parvis on the way to wearing augmented reality in your eyes.

We probably won't find out what Parvis is being drafted in for for some time, though. Google Glass was secretly worked on for three years before it was unveiled for public ridicule and the erstwhile academic has been beavering away on intelligent optics for decades. Lots of time for speculation then…