Google glasses could give you 'Terminator' vision
MT can ignore the rumours no longer. Is Google working on 'Terminator'-style augmented reality glasses?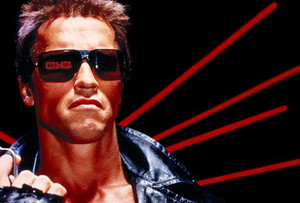 The word on the grapevine is: yes. And these futuristic specs will be available by the end of the year, apparently. They are called 'head-up display glasses' – if you want the official product terminology – and they can stream real-time data onto a small screen embedded into a pair of glasses (or cool eighties shades, like Arnie's).
Here's how they work: as the wearer looks through the goggles, an overlay will come up showing further information about what they're looking at. That could be: film times, if looking at a cinema; reviews, when focused on a restaurant; etc. They could also let you know when a friend is nearby - provided they've checked in with a location-based app, like Fourquare or even Facebook.
The specs will probably be controlled by head movements: nod twice to read the review or some such. They will be Android-based, natch, and come with a 3G or 4G data connection, as well as a camera and motion and GPS sensors. This is seriously hi-tech stuff. Albeit just the latest iteration of technology that's been available on fighter jets and top-of-the-range cars for years.