Google going great guns
Google has laughed in the face of the downturn by posting a 31% increase in third quarter revenue...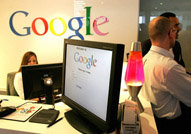 It's been another remarkable three months for Google: the internet powerhouse not only saw revenues jump by almost a third on last year, but also recorded a 26% increase in profits as it reined back its spending. Its stock has halved this year amid warnings that its reliance on advertising revenues would leave it horribly exposed to the global slowdown – but judging by these figures, it seems to be proving largely immune. Hence the 15% jump in its share price yesterday – and when you're already a $100bn company, that's a pretty big bounce…
Clearly news of Google's remarkable results brought a bit of cheer to Wall Street, after a week mostly dominated by doom and gloom. Despite all the dire predictions, the online behemoth actually seems to be thriving: although revenue was largely in line with expectations, profits were higher than forecast, and web traffic was apparently up all around the world. We may be cutting back on some of our luxuries, but we'll never give up our Google Toolbars.
One major reason for Google's seemingly unstoppable profits is its dominance of the online search market – it currently accounts for about 63% of all internet searches, which is twice as much as Microsoft and Yahoo put together. As a result, it also controls a huge proportion of online advertising (over 70%, estimates suggest) – and because this can be targeted so specifically and measured so easily, it's probably going to be the last thing any sensible advertiser gives up. So unless the entire industry grinds to a halt (which seems unlikely), it's a bit hard to see Google falling over.