Google has invested $1bn in Elon Musk's plan to put internet on Mars
The search giant's ambitions are somewhat more earthly than SpaceX's martian dreams.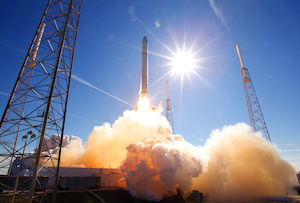 SpaceX is now worth $10bn (£6.6bn), after Google and asset manager Fidelity invested $1bn in return for 10% of the company, which was set up by billionaire PayPal and Tesla founder Elon Musk to bring cheap space travel to earthlings – and one day martians too.
'This funding will be used to support continued innovation in the areas of space transport, reusability, and satellite manufacturing,' the company, which has a $1.6bn contract to resupply Nasa, said in a sparse press release posted online.
It's that last area that has so piqued Google's interest. The search giant, along with Facebook, is desperate to bring internet to the two-thirds of the world's population without it in its quest for new users to sell ads to. It has its own 'Project Loon', but it may be that the corporate pipedream of 'balloon-powered internet for everyone' has run into regulatory or technical troubles.