Google looms large over property websites
Bad news for Rightmove et al: Google is apparently plotting a move into the UK housing market.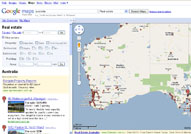 Not content with annoying Rupert Murdoch, Google is apparently set to open a new front in its ongoing plan for world domination. Today's Financial Times reports that it's in talks with UK estate agents about launching its own online property portal – which, in true Google style, would apparently be free to use and funded by advertising. That may be good news if you're an estate agent, but the market seems to think it's rotten news for property websites that make a living by charging for this service: Rightmove's share price tanked by nearly 10% this morning. However, we suspect newspapers should be even more concerned…

According to the FT, Google's new UK portal could launch as early as next year. It already operates a similar service in Australia, which is designed to link buyers to agents (i.e. the general public can't list their own houses and cut out the middle-men). Based around Google Maps, agents can list properties for free, displaying pictures from Google's Street View service and its location on the map. The estate agents interviewed by the FT reckon that since they currently pay property sites for their listings, Google could be onto a big winner if it operates a similar model here. It's this prospective competitive threat that has hammered Rightmove's share price today – even though Google hasn't actually admitted it yet.

Generally speaking, when Google decides to get into a market it doesn't do so by halves. And given its enormous online reach, it's no surprise that the markets are worried about it eating Rightmove and co for breakfast. But in practice, it might not work out that way. Down Under, agents haven't stopped using property sites, because they're still a fairly cheap way of generating high-quality leads – they've just used Google as an extra tool. And unless Google signs up every estate agent in the universe (an extensive and not terribly appealing undertaking), it's unlikely to be fully comprehensive anyway, so buyers are unlikely to use it to the exclusion of all others.

Estate agents didn't close their shops when the internet came along. And in the same way, we can't see them abandoning their current online strategy overnight (in fact, if we weren't penniless journalists, we'd have been tempted to go and buy some Rightmove shares this morning). But perhaps the biggest loser could be the local newspaper industry, which still relies heavily on property advertising. Another nail in the coffin there, then.

In today's bulletin:
Government's RBS bonus balls-up
Google looms large over property websites
Kingfisher profits fly - thanks to a bit of DIY
Don't expect a bigger pay cheque next year
A Traveller's Tale: Dubai's Financial Mirage