Google makes peace offering to publishers over online news
FROM THE ARCHIVE: Amid fierce criticism from the likes of Rupert Murdoch, Google is changing the way its news search works.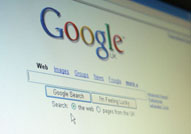 Originally published on 2nd December 2009. Google has been embroiled in an ongoing EU competition enquiry since 2010, while News Corp has just called on the European Commission not to settle with the search engine, criticising Google's 'cynical management'.
Rupert Murdoch's constant attacks on Google over its 'theft' of his online news stories seem to have paid off: the search giant has just announced that it's changed the way it operates so publishers will be able to limit the amount of free content available to users via the Google site. It's not exactly a full-scale retreat by Google, and it's debatable whether this will actually be an effective alternative. But it does look like a signal that Google is keen to meet publishers half-way - which is surely in the best interests of both sides…

As you'd expect, Google wasn't exactly trumpeting this as a fundamental change of approach; instead, it's trying to position it as a tweak to its existing 'First Click Free' programme. Currently, this allows users a free read of any story they click through from Google, even on subscription-only sites - but when they try and click to another story, they hit the pay wall. However, it has been easy enough to get around this by going back to Google and searching for the second story - which could then be accessed for free. Now Google has apparently adjusted the programme so publishers can limit users to a total of five such click-throughs a day before they are forced to register or subscribe.

So it's a subtle change, but a potentially useful one for publishers. Murdoch's gripe is that publishers spend lots of money producing online content, but only Google profits from it (via the ad revenue attached to searches). Only yesterday he was at it again, telling a US Federal Trade Commission workshop: 'Producing journalism is expensive. We invest tremendous resources in our project from technology to our salaries. To aggregate stories is not fair use. To be impolite, it is theft'. Hence why he wants to move all News International's content behind pay walls.

The difficulty, of course, is that so much of his traffic now comes from Google (he could remove his pages from its searches at the drop of a hat, but he's clearly chosen not to). And as Google hinted today, if publishers start hiding stories behind a pay wall, they might well find themselves plummeting down the rankings. Equally, even if they do take up this offer, they might not see any extra subs: users might just start limiting their visits to five a day, and making more use of sites like the BBC instead (which will have no such restrictions).

But although we're not convinced this 'concession' is going to solve the problem, it does at least suggest that Google is willing to negotiate...
In today's bulletin:
BSkyB is Britain's Most Admired Company 2009
Yorkshire Building Society swallows Chelsea to challenge Nationwide
Google makes peace offering to publishers over online news
Editor's blog: BSkyB goes from zero to hero
Indian firm suffers from employee's watercooler moment