Google on your mobile
So Google has finally spilled the beans on its plans to shake up the mobile phone industry – and to many people's surprise, it won't be going head-to-head (or should that be handset-to-handset) with the iPhone.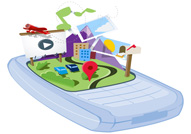 Yesterday Google launched Android, an open source software platform for mobile phones. The idea is this to create a single operating system that will work across different handsets, with the software made available to developers for free. This will make it easier for them to create snazzy new games and applications for our phones.
Given Google's success in creaming its online search competitors, there were probably a few anxious boardrooms in Silicon Valley when news started to emerge of its potential entry into this market. But as it turns out, Google has chosen to take an inclusive approach, bring together more than 30 industry players – including Samsung, LG, T-Mobile, eBay, Telefonica and NTT DoCoMo – to create the Open Handset Alliance. If all these companies have been persuaded to sign up, they can't be too worried that Google is about to have them for breakfast.
Google boss Eric Schmidt insisted yesterday that they wanted this platform to operate across all kinds of different handsets. 'Today's announcement is more ambitious than any single 'Google Phone' that the press has been speculating about,' he said smugly.