Google saves our email blushes
Google's new Mail Goggles function may prevent that modern-day curse: the late-night, ill-advised email.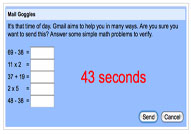 We've all sent emails that we've lived to regret in the cold light of day – particularly those of us partial to the odd alcoholic beverage at the end of a long hard credit-crunched working week. However, in its never-ending quest to manage every single aspect of our electronic lives, Google has come up with a new way to save our bacon: a Gmail function called Mail Goggles, which checks how lucid you are before it lets you send an email.
Google engineer Jon Perlow apparently came up with the wizard wheeze after sending one too many amorous messages while in the vice-like grip of the demon drink. When Mail Goggles is enabled, you'll be asked to answer a series of fairly basic maths questions (or Math, as Perlow puts it) to verify that you're compos mentis enough before the program will let you send your email. Get the sums right, and you can electronically amuse/ provoke/ harass as many people as you like. Get one wrong, and you'll be sniffily informed that it's: 'Water and bed for you'.
Although Mail Goggles is clearly intended for revellers – by default it's set to come on for weekend nights – we can't help feeling that it's a boon for the business world too. If it helps to prevent those who get carried away at Friday after-work drinks from sending an all-staff email explaining exactly what they think of everyone, or making an ill-advised play for an attached colleague, Mail Goggles will be worth its weight in gold – both for company morale and your employment prospects. What's more, you can adjust the settings so it comes on in the early afternoon – so if you're fond of the odd liquid lunch, you should be able to avoid any post-prandial embarrassment.