Google wants a piece of Apple in smartphone war
Apple's iPhone has a fight on its hands, as more phone companies take up Google's Android system.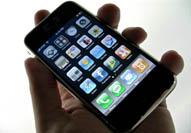 Apple has so far done a pretty good job of cornering the consumer smartphone market with its all-conquering iPhone; and with other operators about to end O2's exclusive supply deal, its sales are likely to see another bump. But the potential fly in the ointment could be Google's new Android operating system. Because it's open-source, and thus free for carriers to use in their handsets, it's a cost-effective way for companies to enter the touchscreen market. And it's becoming increasingly popular...

The iPhone clearly hasn't lost its appeal yet. As O2's exclusive contract comes to an end, other phone companies have been frantically trying to get in on the act. Orange has just announced that it will be selling the iPhone from 10 November, and apparently 200,000 customers have already expressed an interest – even before they know how much it will actually cost. So Apple needn't panic just yet. After all, Android currently has a less than 2% share of the smartphone market, far behind the dominant trio of Apple, Nokia's Symbian system, and RIM's Blackberry (interestingly, the latter two still lead Apple in global market share).

On the other hand, Android does seem to be coming up fast on the rails. It's already been adopted by 32 carriers, including the likes of Samsung, Motorola and Sony Ericsson, and it's been lauded by users and critics alike. Some of these companies are even feeling bold enough to take the fight to Apple: in the US, a new advert for the Verizon Droid points out that the iPhone has no interchangeable battery, no keyboard, and no simultaneous applications. For the phone whose ads boast that 'there's an app for just about anything', that's going to hit a nerve. Apple has a loyal army of followers, but the iPhone has not been without its problems. If Android phones prove to be more reliable, as well as more popular with carriers, it remains to be seen whether they'll stay loyal.

The stakes are certainly high: smartphone customers currently account for about 14% of the total phone market, but forecasts see this rising to as much as 50% by 2012. And the good news for consumers is that all this extra competition should hopefully drive down prices in what remains a fairly expensive market. If so, let the phone wars begin...

In today's bulletin:
Bonuses under the cosh - so bosses take bigger salaries?
Double trouble for BA as regulator and unions weigh in
Google wants a piece of Apple in smartphone war
Forget your green credentials - hire some apprentices
MT Expert's Ten Top Tips: Reducing employee absence