Gordon Brown gives green light to Budget plans
The green energy industry looks set for a Budget boost, as the Prime Minister goes vote-hunting.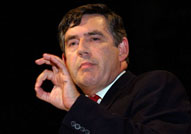 Prime Minister Gordon Brown says the environment will be a key focus of this month's Budget, as part of a push to make Britain 'a world leader' in green industries. In an interview with the Independent today, he insists that this 'green revolution' will kick-start our economic recovery – which is likely to mean Budget measures in support of electric cars, wind farms, smart metering and clean coal. Well, with the economy looking increasingly unlikely to revive before the election, he's got to find votes somewhere...

The PM apparently wants to boost UK revenues from environmental goods and services to £1.5bn in the next few years, a 50% hike (though arguably still a drop in the ocean in the context of overall GDP). Electric cars are central to the Government's green plan: Chancellor Alistair Darling's budget will contain plans to start trialling recharging points in two or three UK cities, while there'll be incentives for car-makers to get involved (as per the recent hand-out to Jaguar Land Rover), and for drivers to trade in their old car for an electric one.

This could be big news for the fleet car industry, of course. A well-timed survey out from PwC today suggests that more and more companies are adjusting their car policies to embrace the green agenda, with one in three now boasting a 'green transport policy' – which basically means cleaner cars, emissions limits and more public transport use. Electric cars are still a bit small, a bit pricey and a bit uncool – but this may change as more investment pours into the area (although the PM is threatening to buy a fleet for his ministers, which sounds like a pretty certain way of ruining their street cred at a stroke).

What we probably won't see in the Budget, on the other hand, is more aggressive spending. With the Institute of Fiscal Studies suggesting this week that public borrowing could rise to £150bn this year (instead of the forecast £118bn), even the PM seems to have accepted that we just can't afford it. In fact, his language today – 'It is not just what we do to give real help now, but about setting a path for the future as well' – suggests that he may finally be about to bite the bullet and start making plans to balance the books, which could mean tax hikes and/ or spending cuts.

Since green measures like these are both relatively cheap and a lot more voter-friendly, it's perhaps not surprising that Brown – who's never seemed that bothered by the issue in the past – has become a sudden convert to the cause. But if they end up helping to create a world-class British industry, who are we to argue?


In today's bulletin:
Gordon Brown gives green light to Budget plans
JD Sports scores 9% profit rise
Much to learn for school managers as closures mount
British workforce getting older - and sicker
MT Breakfast Debate: The silver lining to Recession 2.0