Government announces new £110m fund for SMEs
Cash-strapped businesses, your worries are over! This is the message from Vince Cable, who has created a new scheme to help SMEs access up to £110m in credit.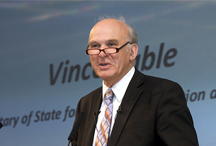 Government has pledged £55m to the Business Finance Partnership scheme and expects match-funding from the private sector to generate a further £55m. Another £45m could be made available in the New Year too, depending on whether the right suppliers can be found to lend the cash.
Government isn't just handing out these millions willy nilly. A number of peer-to-peer lenders and other finance suppliers have beeen bidding for the chance to take the Business Finance Partnership forward. The successful firms have now been announced:
Funding Circle, a peer-to-peer lender, is to receive £20m. Its remit is to enable the British public to lend money directly to small businesses in the UK quickly and easily. For every pound of government money it loans out to small businesses, Funding Circle will lend a pound of its own investors' money.