Government borrowing falls to £12.8bn in September
The UK's public sector net borrowing was down to £12.8bn for September, restoring hopes that the government can actually stop the deficit from rising.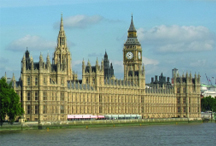 The figure is down from £13.5bn in September 2011, and is a considerable improvement on August, when the public borrowing was higher than it has ever been in a single month: it climbed to £14.41bn.
Such a calamitously high figure made many people sceptical that the government's deficit reduction plan could maintain any credibility whatsoever. But it seems the government has wrestled back some control of the budgets and this drop is likely to please lenders.
The figures remain frightening, however. Public borrowing for the financial year so far stands at £38.6bn. This is less than the £62.8bn that we were on this time last year, but it leaves a net national debt of just over a trillion quid, about 68% of GDP.