Government To Cap Business Rates Rise
Britain's struggling high streets are going to get an early Christmas present.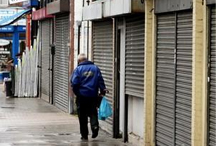 There might be some Christmas cheer for the ailing British high street after all, after the government leaked plans to limit the increase in business rates in Thursday's Autumn Statement to the BBC.
George Osborne will cap the rates rise at 2% in England and Wales next April instead of an inflation-linked increase of 3.2%, and extend rates relief offered to small businesses.
Slashing the tax is at the top of businesses' wish list for reviving Britain's emptying town centres, and they've been lobbying hard for it. Business rates have climbed 23% since 2005-6, and are the highest in the EU. Retailers are now paying £3.05 in business rates for every £1 in corporation tax, according to the British Retail Consortium, and many pay more in rates than they do in rent.