Government to force banks to split
Banks must divide their retail and investment operations to protect customers and prevent another financial meltdown, says Vince Cable.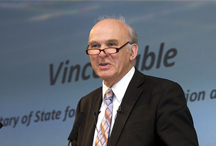 It's a win for Sir John Vickers and his team of risk-wallopers but a definite loss for the banking industry, which stands to lose up to £7bn in the reshuffle.
The Independent Commission on Banking report, which came out in September, catalogued the reforms necessary to stabilise the UK financial system and defend against future shocks. The government has been ruminating over the recommendations for three months: implement the changes wholesale? Or listen to the banks' lobbyists and water down the legislation?
Over the weekend, Vince Cable ended the stalemate. He came out, all guns blazing, in favour of the former. 'It is absolutely right that we make the British economy safe. We just cannot risk a repetition of the financial catastrophe we had three years ago,' he told the BBC.