Government goes nuclear over Rolls-Royce
As if RR didn't have enough to cope with, now it seems that Downing Street is considering nationalising the troubled firm's nuclear submarine business.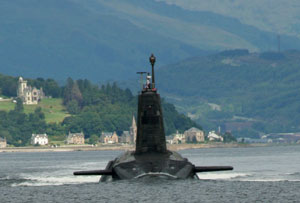 According to a leaked report from the Prime Minister's office, various scenarios have been drawn up in case of serious bother at RR, which as well as being one of the UK's few remaining world-class engineering outfits is also in charge of some pretty heavy duty defence assets – not lease amongst them the powerplants for the Trident nuclear submarine fleet.
The official scenarios include not only nationalisation of the £500m annual revenue nuclear sub business, but also the possibility of a merger of all or part of RR with the country's other remaining large defence contractor BAE Systems.
The news – which comes after a string of profit warnings and bad strategic calls by Rolls-Royce – is hardly likely to do much to help new CEO Warren East get to grips with the firm's issues. Indeed, given that RR has a huge 10 year order book and is still making a billion quid a year despite its problems, the powers that be could be accused of scaremongering.