Government loan scheme won't work, says Cameron
David Cameron reckons the new Small Firms Finance scheme won't be enough to resurrect bank lending...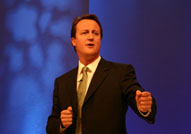 The Tory leader said today that the UK needs a National Loan Guarantee scheme to funnel 'billions of new loans' to the country's small businesses. Speaking to the Policy Exchange think tank, Cameron proposed a scheme that would provide insurance for loans on a commercial basis, to make sure the taxpayer is properly protected. This might sound a lot like the support measures announced in Monday's Pre-Budget Report – but Dave reckons his idea is on a 'different scale' to the Government's 'much smaller and more bureaucratic' plan. Although of course he would say that…
The Government's £1bn Small Firms Finance Scheme is intended to help SMEs get easier access to working capital. So it sounds like a positive step – albeit the precise terms remain a little unclear. In a letter to those involved in the consultation process, Business Secretary Lord Mandelson said on Monday that the new scheme would be 'modelled on the Small Firms Loan Guarantee Scheme but available to a wider group of SMEs… There will be a higher maximum for loan amounts and a wider range of types of debt will be available (i.e. secured, unsecured and working capital).' However, the money won't be accessible until early next year, and the exact details (including 'the terms of the risk premia and risk share with the banks') won't be revealed before then.
The Tory plan is similar in that it involves the government sharing the risk with the banks, to try and get them lending again. But Cameron argues that it's a better solution because it doesn't involve more spending – and the Government insurance would allow banks to lend with a smaller capital cushion. In fact, the Tories' overall approach is markedly different from Labour because it focuses on monetary policy (remember that from the 1980s?) as opposed to fiscal policy. In addition to these guarantees, Dave is also advocating delays to VAT bills, incentives to hire long-term unemployed, and cuts to corporation tax and employers' NI. Clear policy divisions between the two main parties… What is the world coming to?