Government NIC hike will cost 57,000 jobs, says think-tank
The CEBR claims the proposed 0.5% National Insurance increase will cost the UK money and jobs...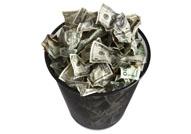 The proposed increase in National Insurance Contributions, due to kick in as of April 2011, is supposed to raise much-needed cash for the public coffers. But according to a report by the Centre for Economics and Business Research, the move will force small businesses to lay off thousands of staff - and given the reduced tax base and increased benefit payments, the Government will probably make virtually no extra money at all. We suspect most of you will agree that it seems crazy to start increasing business taxes when we're trying to drag ourselves out of recession...

The wonks at the CEBR have run a simulation model in which they added another 1p to employers' NI (a tax that all SMEs have to cough up). And their fairly worrying conclusion was that it could cost 57,000 jobs - which would in turn leave the Treasury facing an extra £900m or so in benefit payments. So not only is it 'inconsistent' for the Government to be taxing 'economically beneficial activity' while trying to encourage a recovery, it's also largely ineffective. 'The potential benefits to the public purse are at best minimal, and in the long term may actually damage public finances,' sniffed the CEBR's Ben Read. So there.

Now the report was commissioned by the Federation of Small Business lobby group, so obviously there's a vested interest here. But the logic does seem pretty compelling. At a time when the country's still technically in recession, and unemployment is still climbing, it does seem pretty strange to be raising a tax that will create a financial disincentive for businesses to hire new staff. You don't have to be too much of a cynic to suggest that this looks more like a short-sighted revenue grab than a sensible piece of economic policy-making.

FSB chairman John Wright insists that, if anything, the Government should be committing in the upcoming Pre-Budget Report to freeze NICs and small business corporation tax (at the very least). This would encourage job creation, investment and innovation - as opposed to forcing SMEs to slash employee numbers just so they can afford to pay their tax bills...

In today's bulletin:
Tesco hovers as EU approves Northern Rock break-up
Big Gatwick loss causes BAA profits to nosedive
Government NIC hike will cost 57,000 jobs, says think-tank
Budweiser brewer had 'frat party' atmosphere, says senior female exec
Check out Lady Geek, our great new technology blog