Government picks man to investigate why women don't get plum jobs
Lord Mervyn Davies has been tasked with getting more women into the boardroom (a man's job?)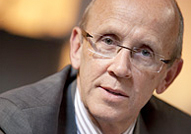 Faced with the task of finding someone to investigate why so few women make it to the top of the career ladder, you'd have thought it might make sense for the Government to ask a woman who has made it to the top of the career ladder – like leading US business academic and boardroom stalwart Laura Tyson, who wrote the last one. But this time round, equalities minister Lynne Featherstone and business minister Edward Davey have gone for a less obvious choice: namely ex-Standard Chartered boss Mervyn Davies, aka Lord Davies of Abersoch, aka a man. Is the Government seriously trying to tell us there are literally no UK-born women qualified to opine on this subject?

The good Lord has been asked to report back to the government on why women make up just 12.2% of FTSE 100 directors (and 7.3% of FTSE 250 directors). The aspiration is that, by the end of this Parliament, at least half of all new appointees to the boards of public bodies will be female. So it's up to Merv to identify the obstacles to women making it to the top, and then come up with strategies to make it easier for women to circumnavigate them – drawing, no doubt, on his own vast experience of juggling his career with childcare and home-making.

Last time the Government ran a similar exercise, it gave the job to Professor Laura Tyson, a former dean of the London Business School and one-time economics wonk in the Clinton administration; her 2003 report on the subject was well-received by what was then the DTI. But the report needs updating, and although Tyson a) is female, b) has worked in the City for years and c) knows the subject well, she's inconveniently decamped back to the US. So the Coalition took a long hard look at the best and brightest women in UK plc - and gave the gig to a male ex-banker.

Now we're sure Davies will turn out an excellent report. He's clever, experienced and has great contacts both in Whitehall and the City. He's seen the problems first-hand – and since compiling a report like this basically involves talking to lots of people and sifting out the relevant information, there's no reason to suppose that he won't do an exemplary job. And if you're being strictly egalitarian about it, there's no reason why a man shouldn't get the gig. We just can't help feeling it sends out a rather unfortunate message.

The press release accompanying the announcement says the Coalition wants to 'lead by example' - but considering there are only four women among the 23-strong cabinet (dismal by international standards), it's not exactly practising what it preaches. Perhaps they should have just asked Nick Clegg's wife, Miriam Gonzalez Durantez, who famously didn't accompany her husband on the campaign trail because 'I don't have the luxury of having a job that I can simply abandon for five weeks'. Now there's someone who wouldn't be backwards in coming forwards about the problems facing working women...

In today's bulletin:
Employers cast doubt on Government recovery prediction
HP sauce: was IT firm right to oust CEO over harassment row?
Get millions of dollars to shop a banker?
Government picks man to investigate why women don't get plum jobs
MT Expert's Ten Top Tips: Reinvigorate your Workforce