Government presses ahead with flexible working changes
Despite business opposition, the Government will proceed with its expansion of flexible working rights...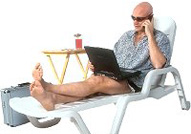 On the day of the Queen's Speech, the Government revealed that the right to request flexible working will indeed be extended to parents with children up to the age of 16 – which will mean a five-fold increase in the number of potential applicants. Lord Mandelson said last month that he was reviewing the timetable for the new rules, in response to business concerns that it was a rotten time to be piling another compliance obligation on SMEs – but it looks as though the flexible working lobby has won the day…
The move means that up to 4.5m parents will have the right to request flexible working as of April next year – a huge increase on the 800,000 parents with kids under six that have the right at the moment. If their request is granted – and currently 90% of requests are – employees will be able to build their hours around their out-of-work commitments, which should be a positive step for greater diversity and equality in the workplace. 'Without the right to request flexible working many people, specifically mothers, are effectively locked out of work,' lobby group Business in the Community said today. 'Smarter working is fundamental to making society fairer and more equal.'
Unfortunately, the flip side is that this process costs businesses time and money – an extra £69m a year, in fact, according to the CBI and the IoD. Along with other business groups, they've been pleading with the government to delay the new measures, arguing (not unreasonably) that it's not a good idea to be loading businesses with extra costs at a time when they're already likely to be feeling the squeeze. And given last month's announcement, it appeared that new Business Secretary Lord Mandelson was sympathetic to their concerns.